Check out this machine. Packed with so many features in a small 2U box. Contact us for our price. We'll offer a competitive deal on this product.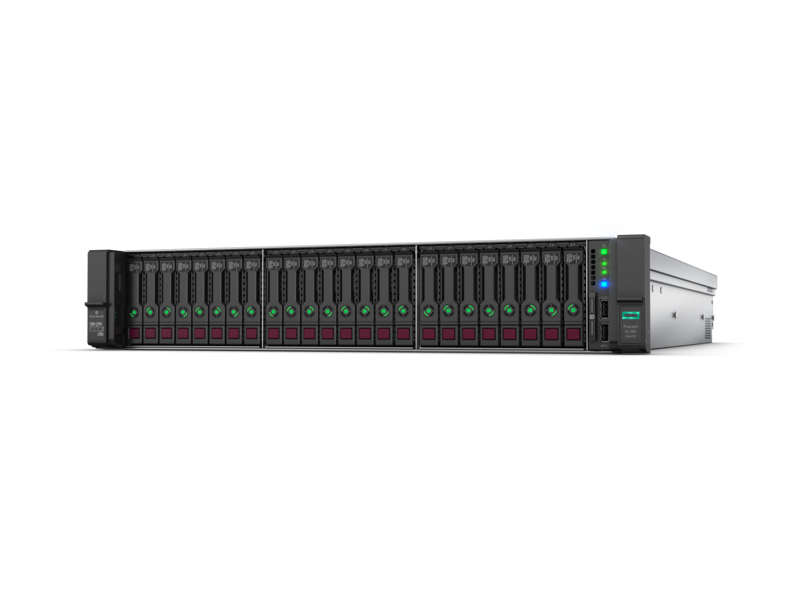 Why not buy 2 for added fault-tolerance?
Lots of storage bays for virtually any configuration. This system has no hard drives installed, which is okay for many IT techs who would like to choose their hard drives. You may call us for a quote for the hard drives. Hard drives vary in price depending on individual needs, so let us know what your daily network workload is.
64 GB RAM installed provides all the physical server memory available for large amounts of data, plus room for virtual machines, plus more room for memory expansion.
Lots can be done with just this box. Those with a server room full of old tower gear could easily consolidate the workload into this machine or two of them.
HPE ProLiant DL380 Gen10 6130 2P 64GB-R P408i-a 8SFF 2x800W PS Performance Server
Technical Specifications
Processor: Intel® Xeon® 6130 (16 core, 2.1 GHz, 22 MB, 125W)
Form Factor: 2U ( not too thin, not too large )
Power supply: 2 HPE 800W Flex Slot Platinum hot plug power supplies (very nice for high-availability service)
Expansion slots: 6 PCIe 3.0
Maximum Supported Memory: 1.5 TB, memory supported differs by processor selection
Amount of Installed Memory: 64 GB (2x 32 GB) RDIMM
Total Memory Slots: 24 slots
Memory type: HPE DDR4 SmartMemory
Included hard drives: None ship standard, 8+2 SFF SAS drives supported
Optical drive type: DVD-RW
System fan features: 6 single rotor fans included
Network controller: 1 HPE 1 Gb 331i Ethernet adapter, 4-ports per controller and 1 HPE 10/25 Gb 2-port 640FLR-SFP28 Ethernet adapter
Storage controller: 1 HPE Smart Array S100i and 1 HPE Smart Array P408i-a SR Gen10 controller
Minimum dimensions (W x D x H): 44.55 x 73.03 x 8.74 cm
Weight: 14.76 kg
Infrastructure management
HPE iLO Standard with Intelligent Provisioning (embedded), HPE OneView Standard (requires download) (standard)
HPE iLO Advanced, HPE iLO Advanced Premium Security Edition, and HPE OneView Advanced (optional)
Warranty
3/3/3 – Server Warranty includes three years of parts, three years of labor, three years of onsite support coverage. Additional information regarding worldwide limited warranty and technical support is available at: http://h20564.www2.hpe.com/hpsc/wc/public/home.